GLOCK G17 Gen 5 Standard FS 9mm Pistol
Glock g17 gen 5 | Glock g17 for sale
The GLOCK G17 Gen 5 is a versatile 9mm pistol that improves on the classic design of GLOCK's original handguns. This 9mm is built with a GLOCK Marksman Barrel (GMB) that uses polygonal rifling to deliver consistent bullet trajectory and velocity for improved precision.
Front serrations on the slide of this GLOCK 9mm provide a positive gripping surface while manipulating the slide, even if the user has wet or sweaty hands. For smoother operation, the G17 Gen5 features a flared mag-well that makes inserting the magazine fast and easy, allowing faster reloads, as well as a reversible magazine catch to accommodate both right- and left-handed shooters.
A unique Safe Action® system sequentially disengages three safeties—one in the trigger, firing pin, and drop—to provide an extra level of security and prevent accidental discharge. Coated with an nDLC finish for added durability, the GLOCK 17 Gen5 9mm Pistol offers precision performance and reliability with a sleek, solid build.
Features:
Flared mag-well for faster reloads
Reversible magazine catch and ambidextrous slide stop lever
Non-reflective nDLC finish protects against corrosion and wear
Safe Action® sequential safety system prevents accidental discharge
Front slide serrations provide added grip even with wet and sweaty hands
GLOCK Marksman Barrel with polygonal rifling delivers enhanced precision
Orange follower and loaded chamber indicator provide visual confirmation of load status
Specs: 
Model: PA175S203
UPC: 764503037108
Caliber: 9MM
Size: Full-size
Type: Striker-fired
Action: Semi-automatic
Magazine Capacity: 17
Trigger Pull: 26 N (5.8 lbs.)
Weight (Loaded Magazine): 33.33 oz
Width: 1.34 in.
Barrel Length: 4.49 in.
Overall Length: 7.95 in.
Height (incl. Mag): 5.47 in.
Finish: Matte
Sights: Fixed sights
Barrel Type: Marksman
Frame Material: Polymer
Slide: Front serrations (FS)
Includes: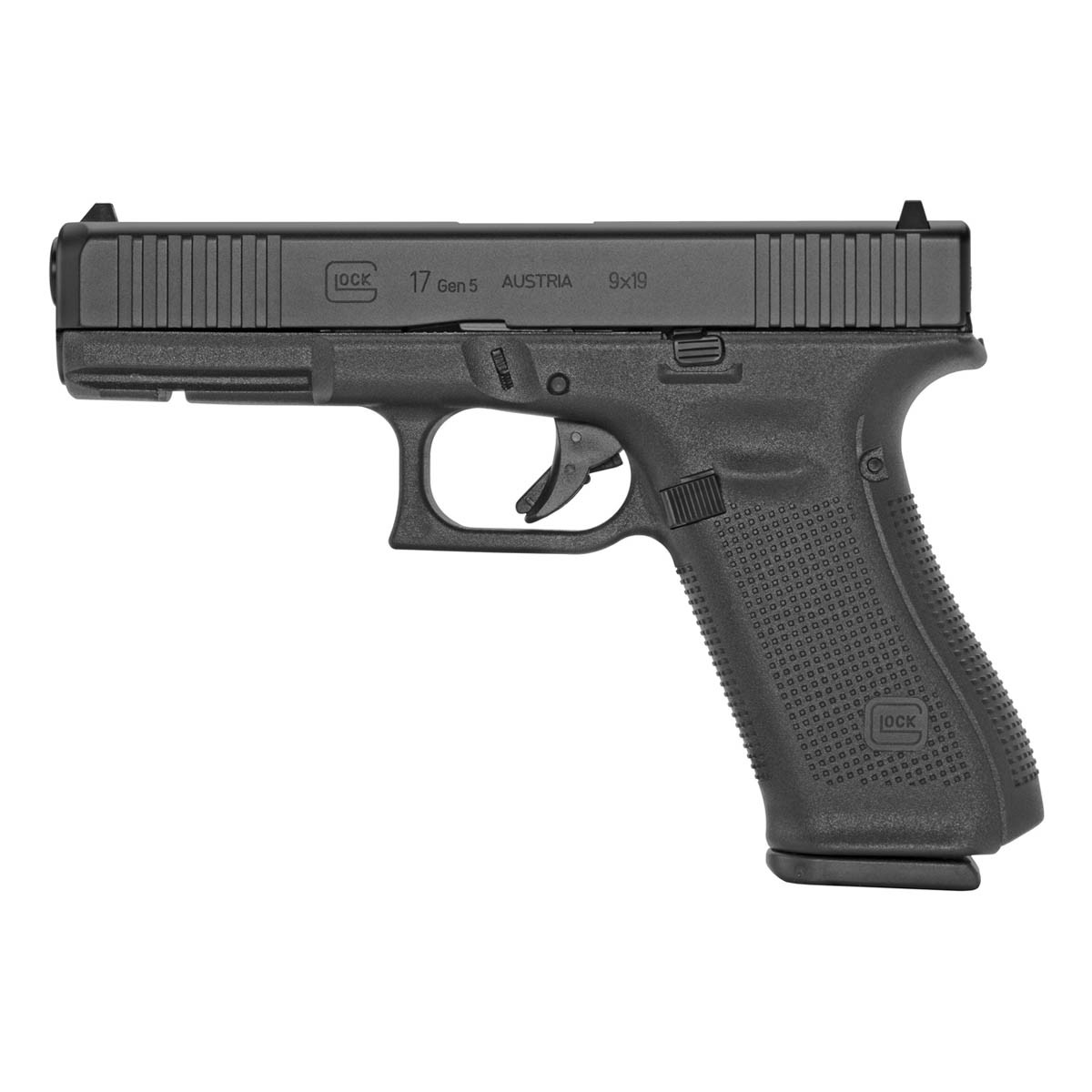 Tag:glock 19, glock 17, glock 43, glock 43x, glock 26, glock 48, glock 19 gen 5, glock 45, glock 44, glock 23, glock 22, glock 42, glock 34, glock 21, glock 20, glock store, glock 40, glock 19 gen 4, glock 27, glock 9mm, glock 17 vs 19, glock 18, glock 17 gen 5, glock 30, glock 17 gen 4, glock 29, glock 26 gen 5, glock gen 5, glock 19 for sale, glock 19 gen 3, glock 10mm, glock 19 price, glock 36, glock 23 gen 4, glock 32, glock 35, glock 43 vs 43x, glock 19 slide, glock p80, glock 41, glock talk