Glock G43 9mm Sub-Compact Pistol
Glock g43 for sale, The already legendary G43 is a single stack, 9 mm Luger caliber pistol. It is ultra-concealable, accurate and a fantastic tool for all shooters regardless of one's hand size. The grip has a built-in beaver tail design which allows the shooter to acquire a high and tight grip. The aggressive texture of the grip surface allows for comfortable and reliable operation of the pistol. The large magazine catch makes quick work of removing the six round magazine. Engineered based on the same superlative standards that GLOCK is famous for, the tiny G43 tolerates the same torture tests all its bigger brothers in the GLOCK pistol family withstand. Includes two 6-round magazines.
Specs:
Model: UI4350201
UPC: 764503913358
Caliber: 9mm Luger
Size: Sub-compact
Magazine Capacity: 6
Sights: Fixed Sights
Trigger Pull: 24 N (5.4 lbs.)
Weight (Empty Magazine): 17.99 oz.
Weight (Loaded Magazine): 20.64 oz.
Slide Width: 0.87 in.
Slide Length: 6.06 in.
Barrel Length: 3.41 in.
Overall Width: 1.06 in.
Overall Length: 6.26 in.
Trigger Distance: 2.56 in.
Height incl. Mag.: 4.25 in.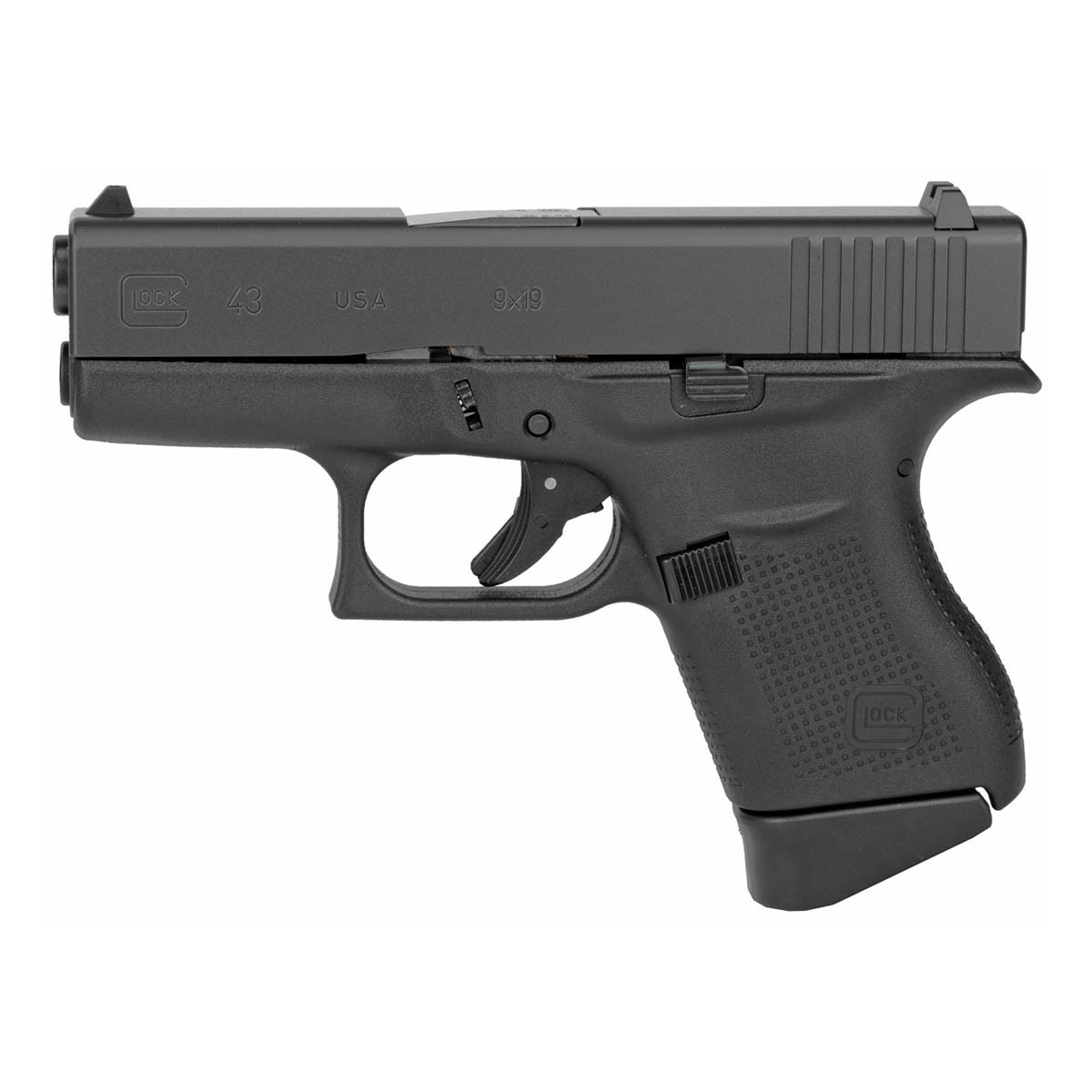 Tag:glock 19, glock 17, glock 43, glock 43x, glock 26, glock 48, glock 19 gen 5, glock 45, glock 44, glock 23, glock 22, glock 42, glock 34, glock 21, glock 20, glock store, glock 40, glock 19 gen 4, glock 27, glock 9mm, glock 17 vs 19, glock 18, glock 17 gen 5, glock 30, glock 17 gen 4, glock 29, glock 26 gen 5, glock gen 5, glock 19 for sale, glock 19 gen 3, glock 10mm, glock 19 price, glock 36, glock 23 gen 4, glock 32, glock 35, glock 43 vs 43x, glock 19 slide, glock p80, glock 41, glock talk