SIG SAUER P320 M18
SIG SAUER P320 M18 Coyote Tan Compact 9mm |sig sauer p320 for sale
SIG SAUER P320 M18, The same accuracy, durability and unmatched reliability as the M17, now available in a compact size. The M18 was recently issued to all branches of the U.S. Military and was chosen as the official sidearm of the U.S. Marine Corps. The P320-M18 is the commercial version that brings the same unprecedented accuracy, extreme reliability and unmatched durability the military demands.
The P320-M18 comes standard with SIGLITE night sights and a removable night sight rear plate. The slide is optic ready and directly compatible with the ROMEO1 PRO. The slide and grip module are the same coyote tan as the military version
Features:
DP Pro Plate
Accessory Rail M1913
Note: The optic cut on the P320-M18 guns are cut per the MHS contract, thus are not compatible with the ROMEO1 but is compatible with the ROMEO1 PRO.
Specifications:
UPC: 798681654574
Model #: 320FA-9-M18-MS2
Model Name: M18 P320 (manual safety included)
Caliber: 9mm Luger
Safety: Manual Safety
Sights: SIGLITE Front / Night Sight Rear Plate
Sight Radius: 5.8 in
Frame Size: Carry
Finish/Color: Coyote
Magazine Capacity: (1) 17 Rd / (1) 21 Rd
Action: Striker Fired
Overall Length: 7.2 in
Overall Width: 1.6 in
Height: 5.5 in
Barrel Length: 3.9 in
Weight: 28.1 oz
Barrel Material: Carbon Steel
Frame Material: Stainless Steel
Slide Material: Stainless Steel
Slide Finish: Coyote PVD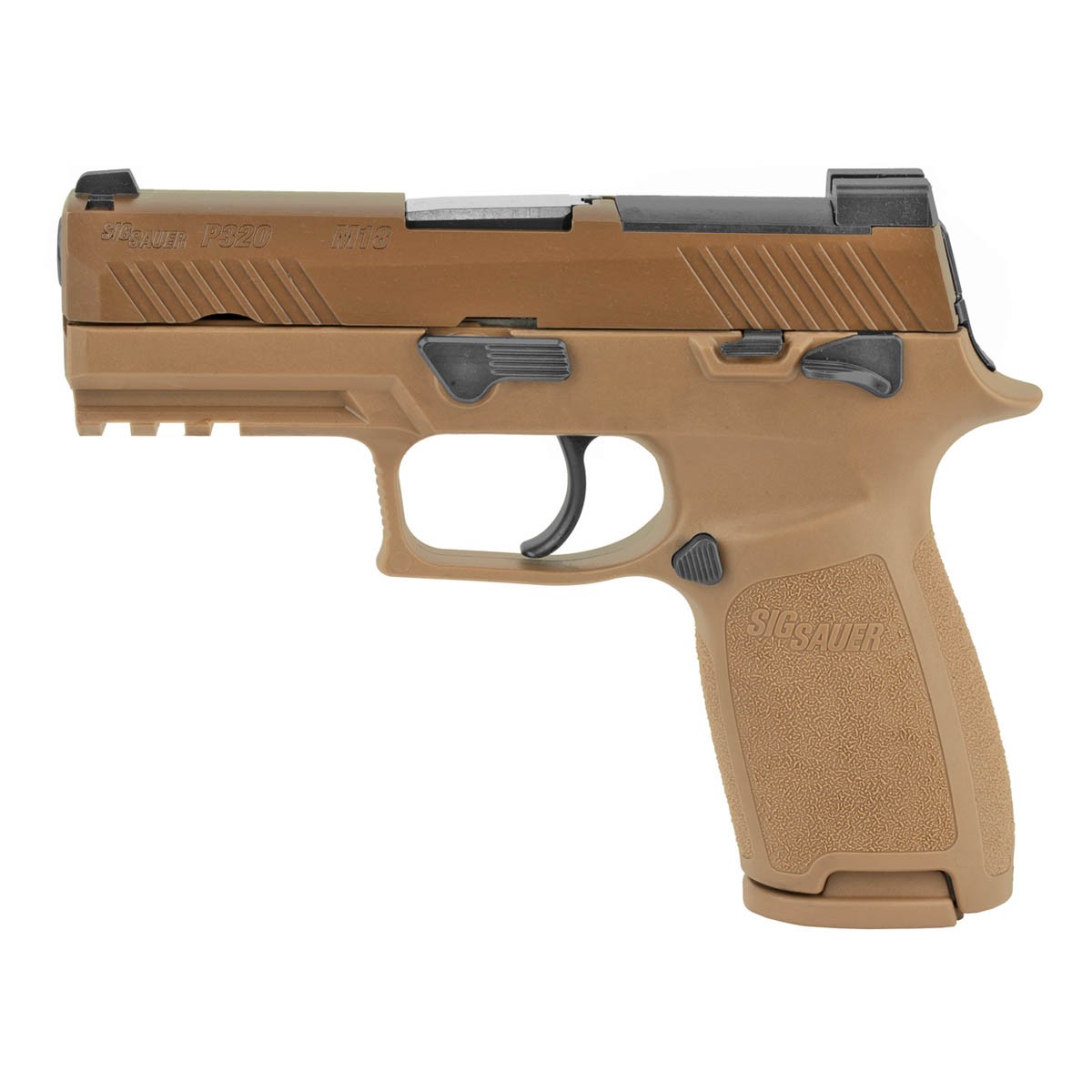 Tags:
sig sauer p365,
sig sauer p365 xl
, sig sauer p365 sas, sig sauer p365 for sale, sig sauer p365 price, sig sauer p365 holster, sig sauer p365 review, sig sauer p365 accessories, sig sauer p365 nitron micro-compact, sig sauer p365 magazine, sig sauer p365 problems, sig sauer p365 12 round magazine, sig sauer p365 sas review,sig sauer p320 full size, sig sauer p320 full size 9mm, sig sauer p320 full size for sale, sig sauer p320 full size review