Sig Sauer P320 XCompact
The Sig Sauer P320 XCompact 9mm Handgun takes the standard performance and ergonomics of the P320 to a low-profile, compact pistol perfect for concealed carry. This SIG 9mm features a compact, optics-ready XSeries slide that is compatible with Sig Sauer's ROMEO1PRO and Deltapoint Pro optics systems.
This compact 9mm comes mounted with an XRay 3 front night sight and a SIGLITE rear night sight plate that provide a clear point of aim even in low light conditions. The SIG P320 XCompact is built with an extended beavertail and high undercut trigger guard that allow higher hand placement for more natural pointing and better recoil management. A compact XSeries grip module provides a comfortable ergonomic hold, while a flat XSeries Trigger delivers a reliably crisp, clean break at 90 degrees. Great for concealed carry or compact at-the-ready storage, the Sig Sauer P320 XCompact 9mm Handgun delivers dependable precision in an easily concealed compact frame.
Features:
Flat XSeries Trigger offers a clean 90-degree break
Compact XSeries grip module offers a comfortable and secure hold
Optics-ready XSeries slide compatible with ROMEO1PRO and Deltapoint Pro
XRay 3 front night sight and rear SIGLITE night sight plate provide precise aim
Extended beavertail and high undercut trigger guard allow higher hand placement
Specs:
Model: 320XC-9-BXR3-R2
UPC: 798681618248
Caliber: 9mm Luger
Trigger Action: Striker
Magazine Capacity: 15
Action Type: Semi-auto
Approximate Weight: 25.3 oz.
Height: 5.3 in.
Barrel Length: 3.6 in.
Overall Width: 1.3 in.
Overall Length: 7.0 in.
Grip Color: Black
Slide Finish: Nitron
Frame Size: Compact
Accessory Rail: M1913
Frame Finish: Stainless steel
Barrel Material: Carbon steel
Slide Material: Stainless steel
Trigger Type: XSeries straight
Frame Material: Stainless steel
Grip Module: Compact Polymer XSeries
Includes:
Two 15-round steel magazines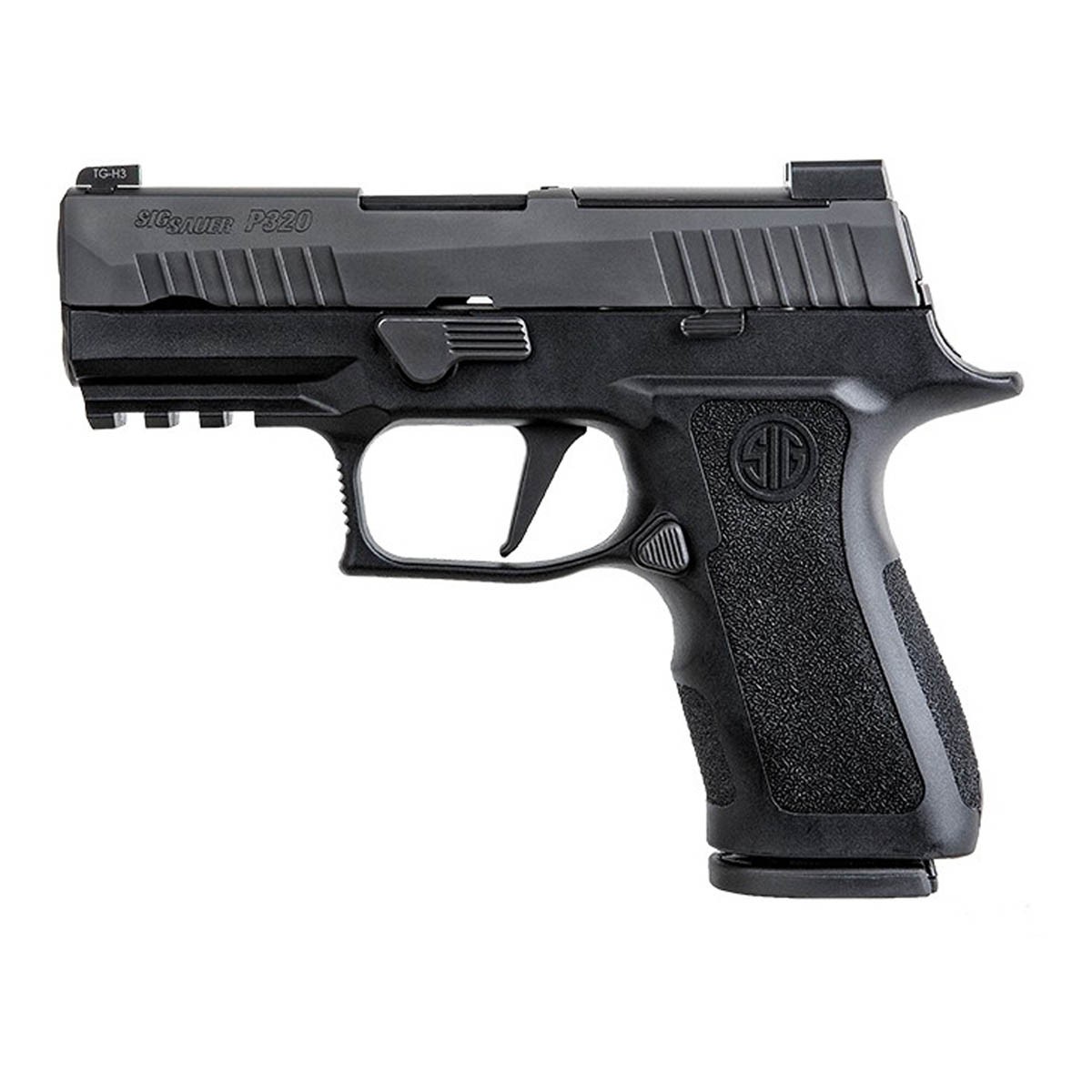 Tags:
sig sauer p365,
sig sauer p365 xl
, sig sauer p365 sas, sig sauer p365 for sale, sig sauer p365 price, sig sauer p365 holster, sig sauer p365 review, sig sauer p365 accessories, sig sauer p365 nitron micro-compact, sig sauer p365 magazine, sig sauer p365 problems, sig sauer p365 12 round magazine, sig sauer p365 sas review,sig sauer p320 full size, sig sauer p320 full size 9mm, sig sauer p320 full size for sale, sig sauer p320 full size review,sig sauer p210, sig sauer p210 target, sig sauer p210 super target, sig sauer p210 target for sale