Beretta M9 22 LR Handgun
Beretta M9 22 LR | J90A1M9F19
The Beretta M9 22 LR Handgun J90A1M9F19 sees the proven performance of Beretta's M9 series chambered for rimfire rounds. This 22 pistol features a unique open slide design that reduces the overall weight of the handgun and provides a slightly wider ejection port for smoother cycling. Mounted dovetail sights on this Beretta rimfire handgun provide a clear sight picture with true-to-aim accuracy.
For efficient control by both left- and right-handed shooters, the M9 22LR features a reversible magazine release and ambidextrous safety and decocker. This 22 LR pistol uses an external hammer capable of firing as both a double and single action to provide reliable ignition suited to the shooter's preferences. Great for tactical training or recreational target shooting, the Beretta M9 22 LR Handgun offers the reliability of Beretta's M9 line in a low-caliber rimfire experience.
Features:
Dovetail sights deliver a clear sight picture
Open slide design offers smoother ejection
External hammer with both double- and single-action capability
Reversible magazine release and ambidextrous safety/decocker offer improved control
Specs:
Model: J90A1M9F19
UPC: 082442736396
Caliber: 22 LR
Action: DA/SA
Magazine Capacity: 15
Approximate Weight: 26.08 oz.
Grip Width: 1.3 in.
Sight Radius: 6.1 in.
Barrel Length: 4.9 in.
Overall Length: 8.5 in.
Overall Width: 1.52 in.
Includes: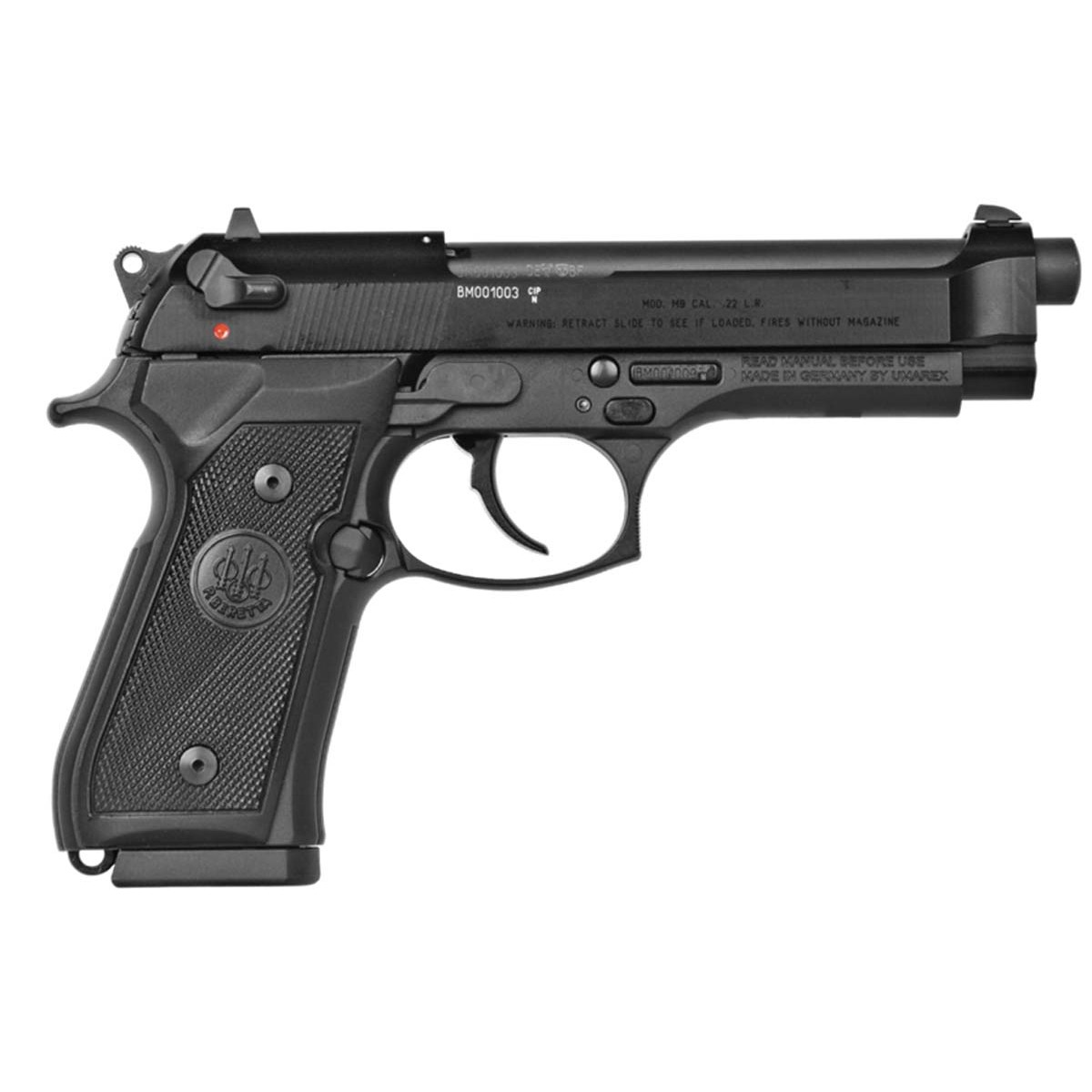 Tags:
082442188812,beretta apx, beretta m9, beretta 92fs, beretta 92x, beretta m9a3, beretta px4 storm, beretta 92, beretta nano, brooke beretta, beretta apx carry, beretta apx centurion, beretta tomcat, beretta shotguns, beretta px4, beretta 1301, beretta cx4 storm, beretta m9a1, beretta pico, beretta a300, beretta 93r, beretta a400, beretta apx review, beretta bobcat, beretta 92s, beretta 92x performance, beretta 92a1, beretta m1951, beretta 1301 tactical, beretta 81, beretta apx compact, beretta 21a, chevy beretta, beretta px4 storm compact, beretta 92f, beretta storm, beretta apx 9mm, beretta cx4, beretta 92 compact, beretta cheetah, beretta silver pigeon, beretta px4 storm 9mm, beretta 92fs compact, beretta neos, beretta 84, beretta 96,beretta 3032 tomcat for sale,beretta 92 fs, 9mm beretta 92 fs, beretta 92 fs for sale