Smith and Wesson Performance Center Edition Full Size
Smith and Wesson Performance Center
Smith and Wesson Performance Center Edition Full Size, Horace Smith and Daniel Baird Wesson formed a partnership in 1852 to manufacture a firearm that could fire a fully self-contained cartridge. From the beginning, Smith & Wesson firearms were noted for their innovative design, high quality production and reliability. The accomplishments of Smith & Wesson are numerous and its contributions to the history of firearms are vast. Smith & Wesson was an industry leader in 1852 when it was first founded and continues to lead the world today with innovations into the 21st century.
Features:
Ported Barrel & Slide to Reduce Muzzle Flip
C.O.R.E.™ Competition Optics Ready Slide Includes Optics Mounting Kit
New, Larger Slide Stop
Trigger Stop to Adjust the Overtravel
PC Tuned Action with Audible Trigger Reset
3-Dot White Sights
Front Cocking Serrations
Extended Rigid Embedded Stainless Steel Chassis System to Reduce Flex and Torque While Firing
Aggressive Grip Texture for Enhanced Control
Low Barrel Bore Axis Makes the M&P Pistol More Comfortable to Shoot Reducing Muzzle Rise and Allowing for Faster Aim Recovery
Four Interchangeable Palmswell Grip Inserts for Optimal Hand Fit & Trigger Reach – S, M, M-L, L
Armornite® Durable Corrosion Resistant Finish
Two Magazines Included
Specifications:
UPC: 022188871401
Model #: 11831
Model Name: Performance Center® M&P®9 M2.0™ Ported 4.25″ Barrel & Slide C.O.R.E.™
Caliber: 9mm Luger
Sights: Suppressor Sights
Front Sight: White Dot
Rear Sight: White 2-Dot
Frame Size: Full
Frame Finish: Matte Black
Magazine Capacity: 17
Action: Striker Fire
Barrel Length: 4.25″
Type of Barrel: Ported
Barrel Material: Stainless Steel
Slide Material: Stainless Steel
Slide Type: Ported
Slide Finish: Armornite
Safety: No Thumb Safety
Grips: Interchangeable
Overall Length: 7.5
Weight: 26.9 oz.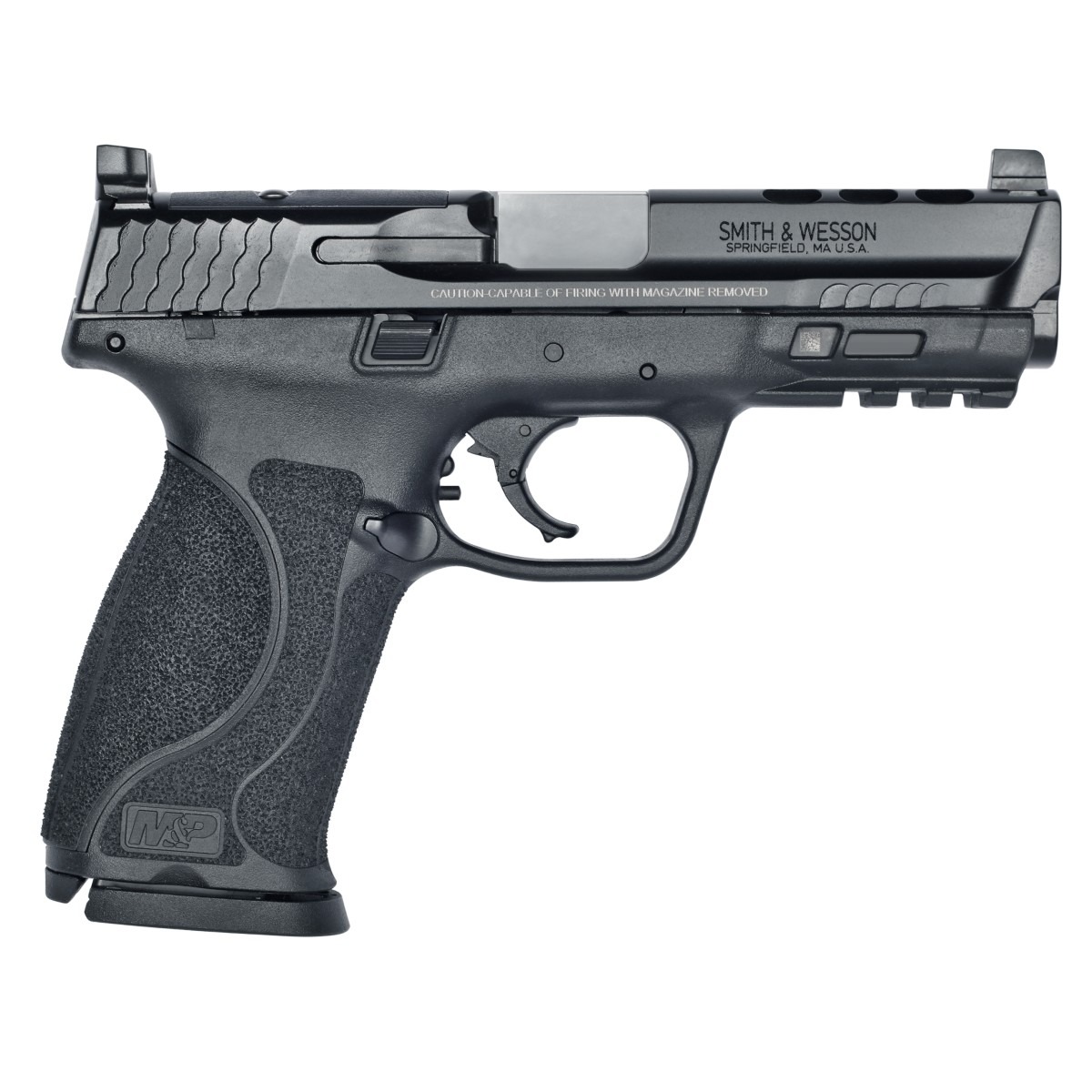 Tags: smith & wesson, smith & wesson m&p15 sport ii, smith & wesson m&p 15-22, smith & wesson model 29, smith & wesson sd9ve, smith & wesson model 10, smith & wesson governor, smith & wesson model 19, smith & wesson shield 9mm, smith & wesson sd9 ve, smith & wesson sd9, smith & wesson m&p15-22, smith & wesson model 60, smith & wesson m&p 15 sport ii, smith & wesson bodyguard, smith & wesson model 586, smith & wesson m&p9 m2.0, smith & wesson 500, smith & wesson bodyguard 380, smith & wesson model 41, smith & wesson m&p 40, smith & wesson model 500, smith & wesson 642, smith & wesson 5906, smith & wesson m&p shield m2.0, smith & wesson 380 ez, smith & wesson m&p sport ii, smith & wesson m&p shield 2.0, smith & wesson 380,smith and wesson sd9ve, smith and wesson ez 9mm, smith and wesson 500, smith and wesson governor, smith and wesson bodyguard 380, smith and wesson bodyguard, smith and wesson m&p 15 sport 2, smith and wesson 380, smith and wesson m&p 40, smith and wesson 40, smith and wesson knives, smith and wesson model 29, smith and wesson ez, smith and wesson 380 ez, smith and wesson 1911, smith and wesson serial number lookup, smith and wesson model 19, smith and wesson 38 special, smith and wesson m&p 15-22, smith and wesson m&p shield 2.0, smith and wesson model 10, smith and wesson 686 plus, smith and wesson 642, smith and wesson m&p sport 2, smith and wesson sd9, smith and wesson sd40ve, smith and wesson m&p 45, smith and wesson shield 2.0, smith and wesson 629