9mm Beretta 92 FS Pistol
9mm Beretta 92 FS for sale
9mm Beretta 92 FS for sale, The 92FS is a double/single-action semi-auto pistol that employs an open-slide, short-recoil delayed locking-block system, which yields a faster cycle time and delivers exceptional accuracy and reliability. In particular, the open-slide design practically eliminates "stove-piping" and helps flawless cycling and feeding even after thousands and thousands of rounds.
Specifications:
UPC: 082442818986
Model #: JS92F300M
Ambidextrous Safety-Decocker
Reversible Magazine Release
Tool-Free Disassembly
Made in Italy
Caliber: 9mm Luger
Barrel Length: 4.90″
Capacity: 15+1
Finish: Black Bruniton
Sight radius: 6.1 (in.)
Sights: 3 dot
Safety: Ambidextrous
Match-Grade Accuracy out of the Box
Regardless of the wonderful reputation it may have, the true test for a tactical pistol's worth is at the shooting range. The 92FS consistently bests the US military requirement of a 10-shot group of 3″ or less at 50 meters (just short of 55 yards). While this type of  match-grade accuracy is impressive, it is no magic.
At Beretta, we know that absolutely precise tolerances keep performance consistent shot after shot-which not only gives the 92FS its extraordinary accuracy, but it makes all factory parts minterchangeable within the same model. Couple this to the ability to reliably feed every variety of commercial ammunition, and it is easy to understand why the 92FS remains the best pistol in its class.
Red Loaded Chamber Indicator
This is yet another safety feature making the 92FS a favorite among tactical and combat pistol shooters: a color-coded indicator reliably shows whether the chamber is loaded.
Combat Trigger Guard
The trigger guard of the 92FS has been carefully developed optimized for combat and tactical shooting; it ergonomically supports the off-hand no matter the shooting style or combat stance.
Disassembly Latch
The 92FS features an easy-to-operate disassembly latch, enabling easy field-stripping without any tools.
External Hammer
The rounded external hammer of the 92FS offers all the advantages of a visible hammer, plus a sleek and snag-free profile.
Non-Reflective Black Bruniton
The Bruniton finish on the 92FS offers two great advantages: it is durable, corrosion- and sweat-resistant, while not reflecting light even under a bright, scorching sun.
Open Slide Design
The advantages of the open slide design of the 92FS are many. Besides shaving weight from the slide, it is legendary for its reliability, virtually eliminating many problems such as stove-piping.
Reversible Magazine Release
The mag-release can be reversed for right- or left-handed use, as well as for different grips or shooting styles. This can be done by the user without any gunsmithing.
Safety Decocker
The two-position safety lever also works as a decocker. When in the down position, it completely impedes any contact between the hammer and the firing pin, making carry safe and worry-free.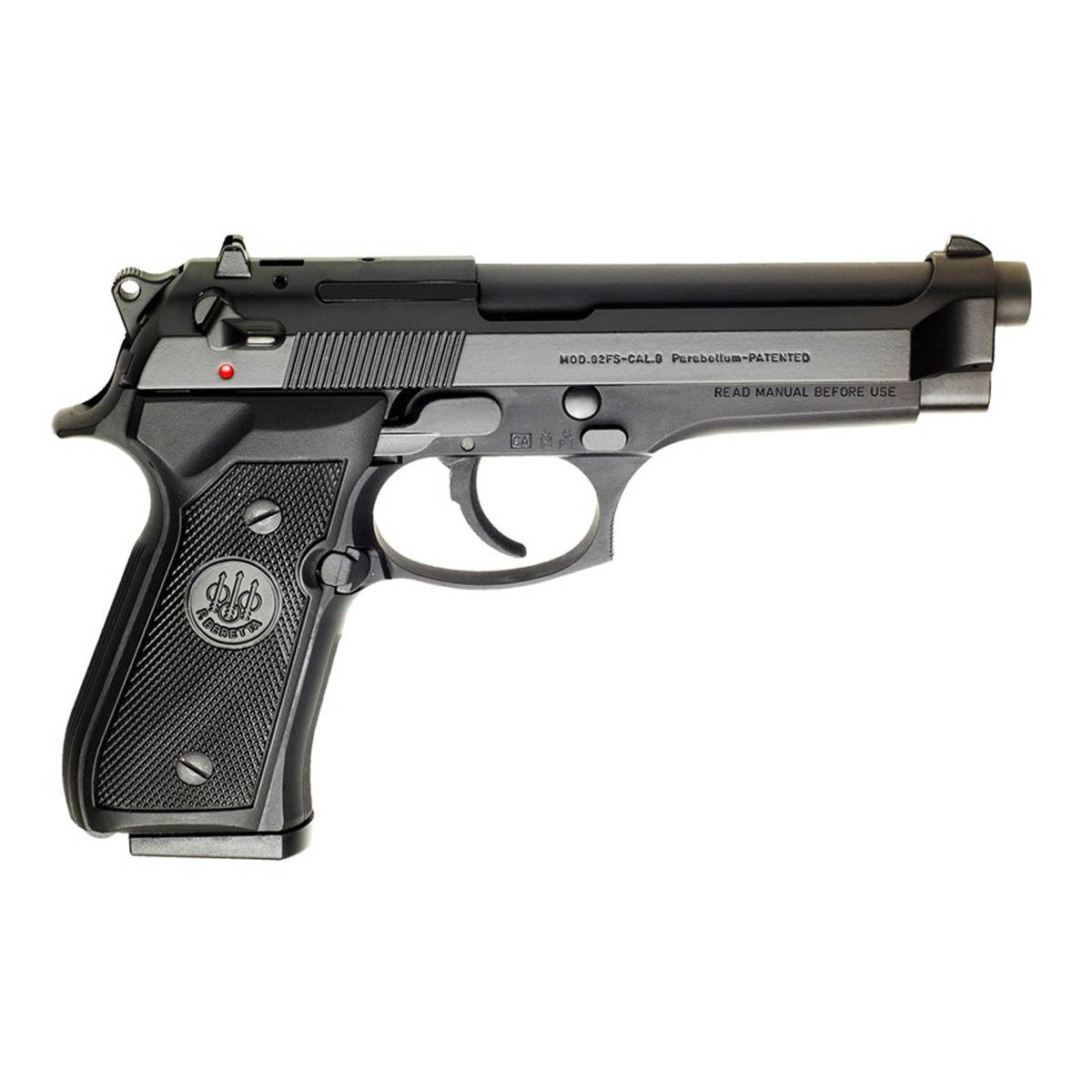 Tags:
beretta apx, beretta m9, beretta 92fs, beretta 92x, beretta m9a3, beretta px4 storm, beretta 92, beretta nano, brooke beretta, beretta apx carry, beretta apx centurion, beretta tomcat, beretta shotguns, beretta px4, beretta 1301, beretta cx4 storm, beretta m9a1, beretta pico, beretta a300, beretta 93r, beretta a400, beretta apx review, beretta bobcat, beretta 92s, beretta 92x performance, beretta 92a1, beretta m1951, beretta 1301 tactical, beretta 81, beretta apx compact, beretta 21a, chevy beretta, beretta px4 storm compact, beretta 92f, beretta storm, beretta apx 9mm, beretta cx4, beretta 92 compact, beretta cheetah, beretta silver pigeon, beretta px4 storm 9mm, beretta 92fs compact, beretta neos, beretta 84, beretta 96,beretta 3032 tomcat for sale,beretta 92 fs, 9mm beretta 92 fs, beretta 92 fs for sale