Smith & Wesson Model 642 38 Special +P Handgun
Smith and wesson model 642 for sale
Smith and wesson model 642 for sale, The Smith & Wesson Model 642 .38 Special +P Handgun delivers the power of a full-sized handgun in a compact lightweight design. This handgun is built with a lightweight alloy frame, making it easy to maneuver as well as easy to carry all-day. With a barrel length of 1.9 inches and an overall length of 6.3 inches, this pistol features a slim profile perfect for concealed carry.
The enclosed hammer prevents catching, resulting in a smoother shot with less chance of misfires and hangfires. This pistol features a textured synthetic grip for superior hold and handling. The stainless steel barrel and cylinder make for easier care and maintenance and a more durable, long-lasting firearm.
This concealed carry handgun is capable of shooting .38 Special +P rounds, a round with a higher internal pressure for a faster and more powerful shot, as well as regular .38 Special, giving you versatility over the power, recoil, and velocity of your shot. The Smith and Wesson Model 642 .38 Special +P Handgun offers a slim profile without sacrificing power or reliability, making it ideal for concealed carry or personal and home defense.
Features:
Rated for continuous +P use
Enclosed hammer prevents catching
Durable stainless steel barrel and cylinder
Chambered for .38 Special and .38 Special +P
Lightweight alloy frame allows easy concealed carry
Specifications:
Capacity: 5
Grip: Synthetic
Weight: 14.4 oz.
Rear sight: Fixed
Front sight: Integral
Barrel length: 1.88 in.
Overall length: 6.3 in.
Action: Double action
Caliber: 38 Special +P
Frame finish: Matte silver
Barrel material: Stainless steel
Frame material: Aluminum alloy
Cylinder material: Stainless steel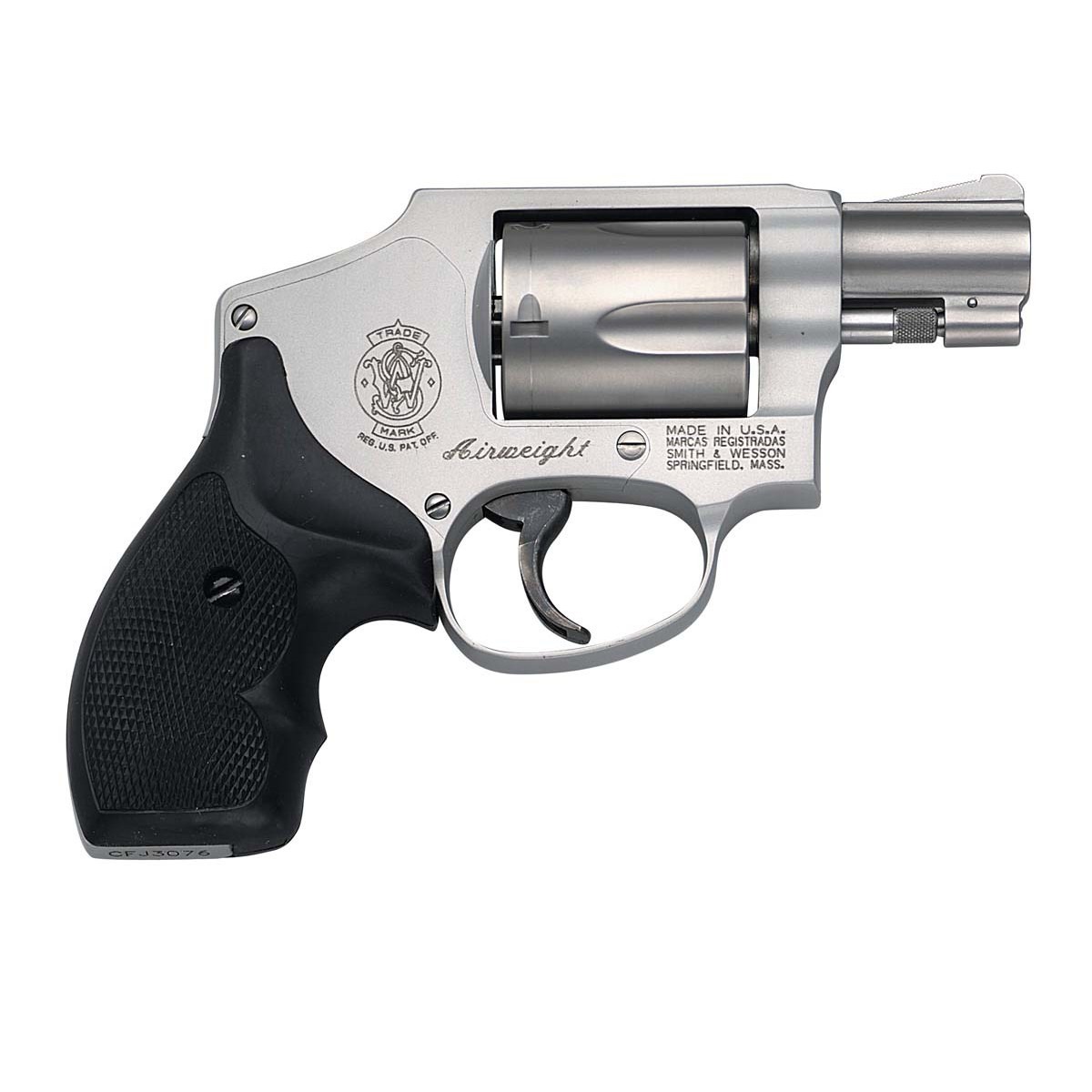 Tags: smith & wesson, smith & wesson m&p15 sport ii, smith & wesson m&p 15-22, smith & wesson model 29, smith & wesson sd9ve, smith & wesson model 10, smith & wesson governor, smith & wesson model 19, smith & wesson shield 9mm, smith & wesson sd9 ve, smith & wesson sd9, smith & wesson m&p15-22, smith & wesson model 60, smith & wesson m&p 15 sport ii, smith & wesson bodyguard, smith & wesson model 586, smith & wesson m&p9 m2.0, smith & wesson 500, smith & wesson bodyguard 380, smith & wesson model 41, smith & wesson m&p 40, smith & wesson model 500, smith & wesson 642, smith & wesson 5906, smith & wesson m&p shield m2.0, smith & wesson 380 ez, smith & wesson m&p sport ii, smith & wesson m&p shield 2.0, smith & wesson 380,smith and wesson sd9ve, smith and wesson ez 9mm, smith and wesson 500, smith and wesson governor, smith and wesson bodyguard 380, smith and wesson bodyguard, smith and wesson m&p 15 sport 2, smith and wesson 380, smith and wesson m&p 40, smith and wesson 40, smith and wesson knives, smith and wesson model 29, smith and wesson ez, smith and wesson 380 ez, smith and wesson 1911, smith and wesson serial number lookup, smith and wesson model 19, smith and wesson 38 special, smith and wesson m&p 15-22, smith and wesson m&p shield 2.0, smith and wesson model 10, smith and wesson 686 plus, smith and wesson 642, smith and wesson m&p sport 2, smith and wesson sd9, smith and wesson sd40ve, smith and wesson m&p 45, smith and wesson shield 2.0, smith and wesson 629