Smith & Wesson M&P M2.0 9mm Handgun
Smith and wesson m&p m2.0 9mm
The Smith and wesson m&p m2.0 9mm Handgun is a polymer pistol versatile enough for personal, sporting, and professional use. This 9mm pistol is built with an extended stainless steel chassis that provides unmatched strength and stability to reduce the impact of the torque caused when the handgun is fired. An m&p m2.0 9mm trigger on this 9mm offers a consistently crisp, lightweight pull.
A low barrel bore axis reduces muzzle rise, while an 18-degree grip angle offers a natural point of aim. For improved control, the m&p m2.0 9mm features an aggressive grip texture and interchangeable palmswell grip inserts that ensure a secure, comfortable hold for each shooter. This 9mm pistol is coated with a durable Armornite
finish that prevents damage from corrosion and wear. Great for target shooting or personal defense, the Smith & Wesson M&P® M2.0TM 9mm Handgun offers accurate, powerful protection with enhanced handling.
smith and wesson m&p m2.0 9mm Features:
Armornite® finish protects against corrosion and wear
18-degree grip angle provides an optimal point of aim
Low barrel bore axis reduces muzzle rise for faster follow-up shots
Aggressive grip texture delivers a secure hold for improved control
Lightweight yet crisp M&P M2.0 trigger with tactile and audible reset
Extended rigid chassis adds stability to reduce flex and torque caused by firing
Four interchangeable palmswell grip inserts ensure optimal hand fit  (S, M, ML, L)
Specs:
Model: 11521
UPC: 02218886927
Caliber: 9mm
Action: Striker-fired
Rate of Twist: 1:10
Magazine Capacity: 17
Approximate Weight: 24.7 oz.
Barrel Length: 4.25 in.
Overall Length: 7.1 in.
Grip: Polymer
Finish: Matte black
Slide Finish: Armornite®
Frame Material: Polymer
Barrel Finish: Armornite®
Front Sight: Steel white dot
Rear Sight: Steel white 2-dot
Slide Material: Stainless steel
Barrel Material: Stainless steel
Includes: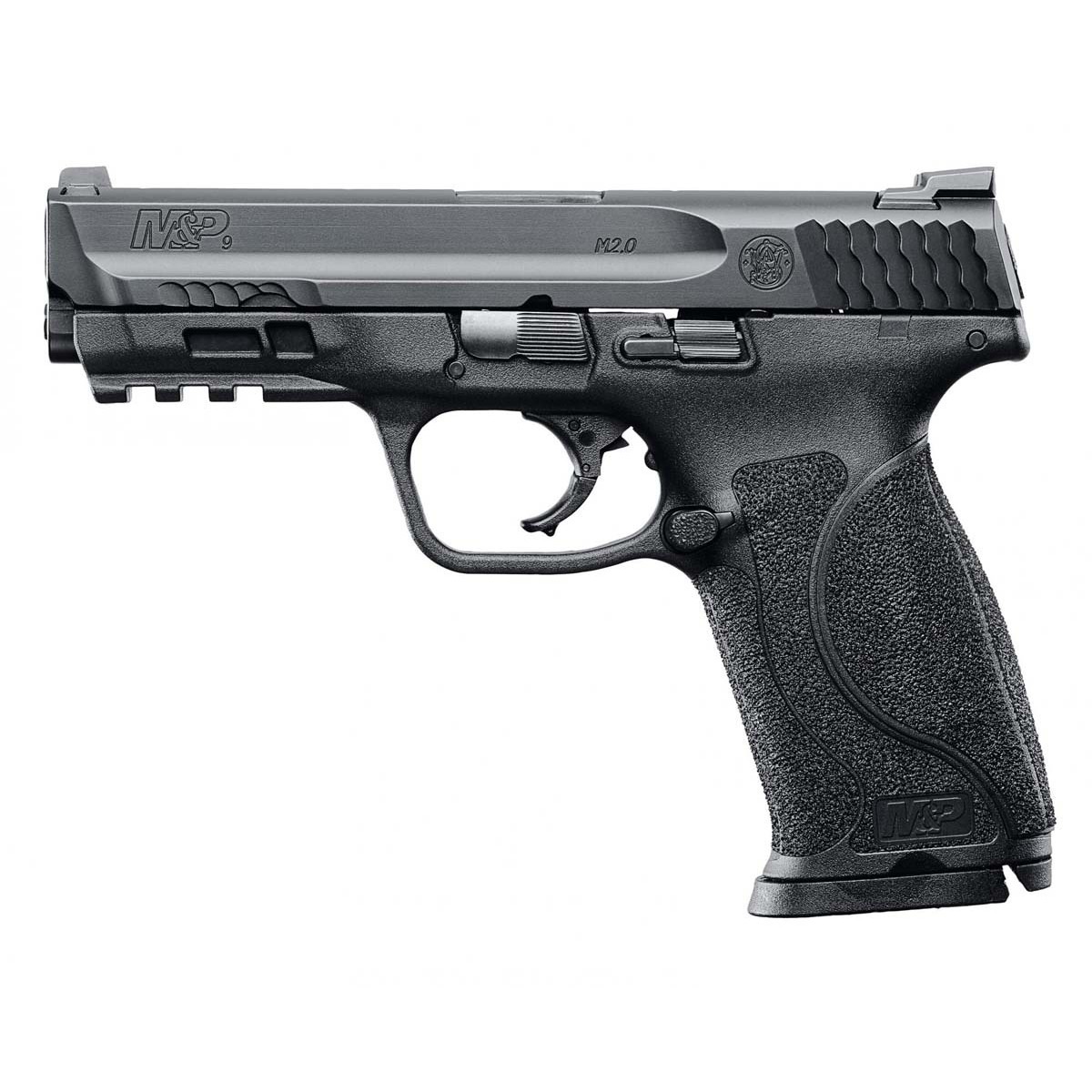 Tags: smith & wesson, smith & wesson m&p15 sport ii, smith & wesson m&p 15-22, smith & wesson model 29, smith & wesson sd9ve, smith & wesson model 10, smith & wesson governor, smith & wesson model 19, smith & wesson shield 9mm, smith & wesson sd9 ve, smith & wesson sd9, smith & wesson m&p15-22, smith & wesson model 60, smith & wesson m&p 15 sport ii, smith & wesson bodyguard, smith & wesson model 586, smith & wesson m&p9 m2.0, smith & wesson 500, smith & wesson bodyguard 380, smith & wesson model 41, smith & wesson m&p 40, smith & wesson model 500, smith & wesson 642, smith & wesson 5906, smith & wesson m&p shield m2.0, smith & wesson 380 ez, smith & wesson m&p sport ii, smith & wesson m&p shield 2.0, smith & wesson 380,
smith and wesson m&p m2.0 9mm