Beretta 3032 TOMCAT 32ACP INOX 7RD Pistol
Beretta 3032 tomcat for sale
Beretta 3032 tomcat for sale,The diminutive stainless steel finished Beretta 3032 Tomcat Inox is a snag-free .32 ACP (7.65 mm Browning) 7+1 compact semi-automatic. It features a 2.4" steel forged barrel and straight blowback locking system. The Tomcat is Made in America. It's full of nifty eye-catching features, has standout architecture and was even featured in James Bond's "Die Another Day".
Inox is Italian for not oxidizable. This means it has a durable stainless steel finish, but this is actually enshrouding aluminum alloy construction. Between the finish and the "everything flows toward the tapered nose" styling, this very modern gun looks almost art-deco though it started production in 1996.
The Tomcat's 3.7" height, 4.92" length, 1.1" width and sub-one pound 14.5 ounce weight make it ideal for concealed carry and hour after hour comfortable portability. The barrel is 6 grooved and has a 1 to 10" RH twist.
The Tomcat's ergonomics make using it intuitively. And features such as double-action/single-action (DA/SA) and a tip-up barrel make it versatile. This gun is really for right-hand shooters as all primary controls are on the left.
Everything about this gun screams "snag-free" and easy to holster or conceal carry. The frame has gentle curves all around. The tang is contoured. The mainspring housing is gently curved without a sag. The trigger guard is oversized and broadly curved. The beavertail ramps straight up toward the top of the slide.
Additionally, the sights are discrete. The forward one is a low curved ramp while in back is a short dovetailed U-notch blackout sight. The frame's forward part ramps up to meet the recoil spring housing. The black grip panels have curves, etc.
Perhaps surprisingly given the gun's small size, the rear sight is adjustable for windage.
The Tomcat features a cut down machined slide behind the front sight to the ejection port's breech face. This leaves the top of the barrel visible and easy to tip up. The back of the slide has 14 tightly packed diagonal serrations and a flat top.
The gun has a two-position left side thumb safety that prevents the pistol from firing and simultaneously locks the slide.
The tip-up barrel has been common to many small Berettas. One can easily load a round into the chamber without racking the slide. It also means being able to clean the barrel without doing a lot of work. To release the barrel, just use the flat ovoid tip-up barrel release latch.
The magazine release is placed unusually in the grip's bottom left, just above the back corner. It's recessed, so it can't be triggered accidentally though it permits one-handed operation. Last, the magazine has counting holes, which is always a nice feature.
While this gun has Italian name, it's made in Gallatin, Tennessee, about 30 miles northeast of Nashville.
Specs:
UPC: 082442924298
Action: SA/DA
Caliber: 32 ACP
Barrel Length: 2.40″
Capacity: 7+1
Safety: Two Position
Grips: Black Synthetic
Sight Configuration: Fixed Front, Adj Rear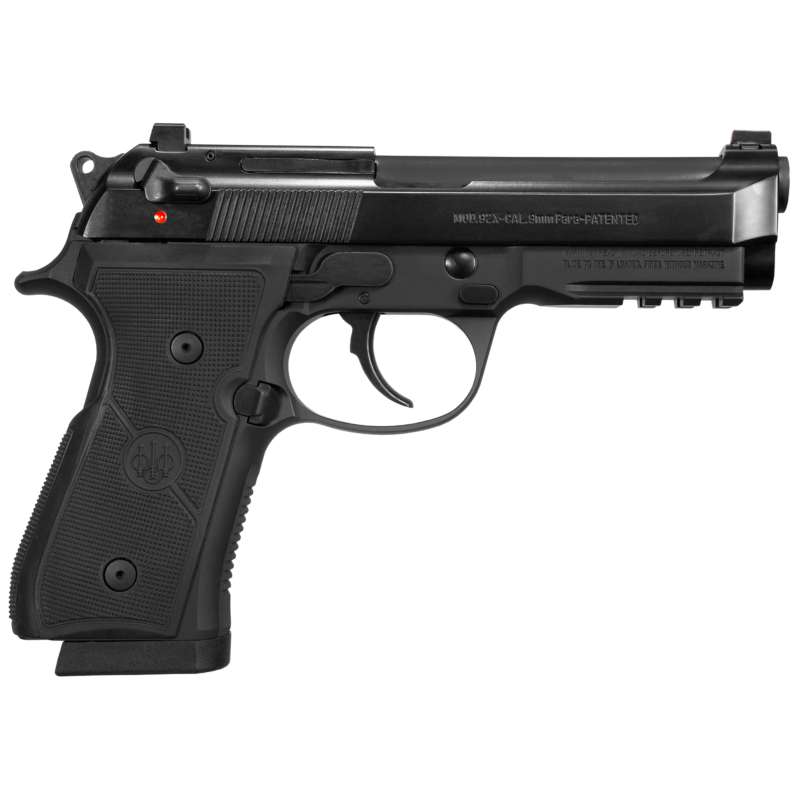 Tags:
beretta apx, beretta m9, beretta 92fs, beretta 92x, beretta m9a3, beretta px4 storm, beretta 92, beretta nano, brooke beretta, beretta apx carry, beretta apx centurion, beretta tomcat, beretta shotguns, beretta px4, beretta 1301, beretta cx4 storm, beretta m9a1, beretta pico, beretta a300, beretta 93r, beretta a400, beretta apx review, beretta bobcat, beretta 92s, beretta 92x performance, beretta 92a1, beretta m1951, beretta 1301 tactical, beretta 81, beretta apx compact, beretta 21a, chevy beretta, beretta px4 storm compact, beretta 92f, beretta storm, beretta apx 9mm, beretta cx4, beretta 92 compact, beretta cheetah, beretta silver pigeon, beretta px4 storm 9mm, beretta 92fs compact, beretta neos, beretta 84, beretta 96,beretta 3032 tomcat for sale