Beretta APX Full Size JAXF920 Pistol
Beretta APX FOR SALE
The Beretta APX JAXF920 Pistol is a semiautomatic pistol designed to meet military specifications and performance standards. This pistol comes with three interchangeable backstraps to provide the optimal fit for a variety of hand sizes and features a rough-textured grip for a more secure hold.
The low bore axis of this Beretta handgun perfectly balances the gun for improved control and faster sight tracking. Mounted three-dot sights on the APX offer quick target acquisition while a reversible magazine release provides easy access. For improved operation, this 9mm handgun features a large magazine plate and aggressive slide serrations that deliver quick mag removal and slide manipulation. Great for duty or concealed carry, the Beretta Pistol offers milspec reliability and precision with improved controllability.
Features:
3-dot sights deliver quick target acquisition
Large magazine plate for faster mag removal
Underside Picatinny rail for attaching accessories
Low bore axis improves balance for better control
Reversible magazine release offers ambidextrous control
Interchangeable backstraps offer an optimized fit against the hand
Aggressive slide serrations provide added grip during slide manipulation
Dimensions: 
Weight (Unloaded): 28.24 oz.
Overall Width: 1.3 in.
Overall Height: 5.6 in.
Barrel Length: 4.25 in.
Overall Length: 7.55 in.
Specifications:
| | | | |
| --- | --- | --- | --- |
| UPC | Model # | Caliber | Capacity |
| 082442874241 | JAXF921 | 9mm | 17 |
| 082442874234 | JAXF920 | 9mm | 10 |
| 082442874258 | JAXF420 | 40 | 10 |
| 082442874265 | JAXF421 | 40 | 15 |
Includes:
Magazine
Interchangeable backstraps (S, M, and L)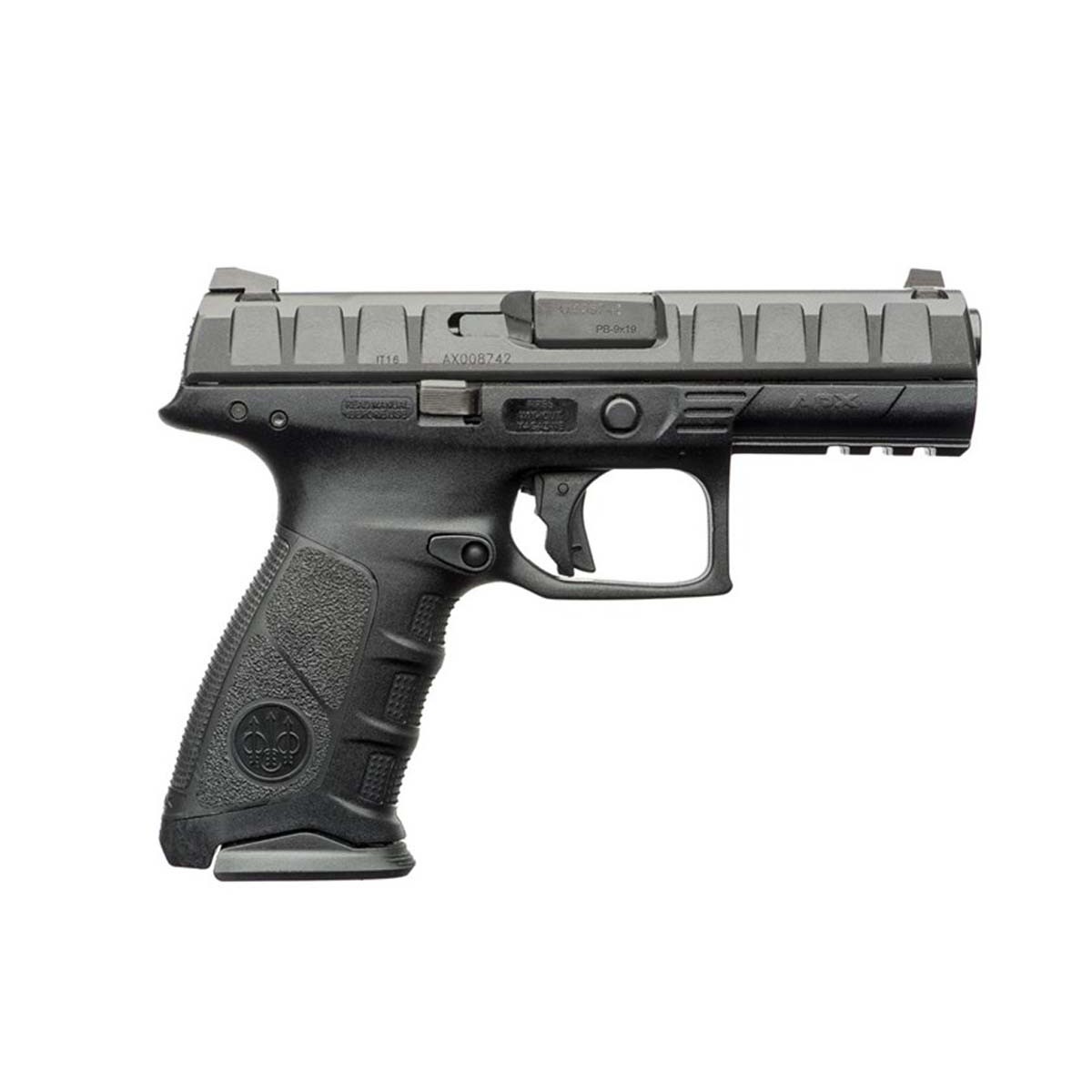 Tags:
082442188812,beretta apx, beretta m9, beretta 92fs, beretta 92x, beretta m9a3, beretta px4 storm, beretta 92, beretta nano, brooke beretta, beretta apx carry, beretta apx centurion, beretta tomcat, beretta shotguns, beretta px4, beretta 1301, beretta cx4 storm, beretta m9a1, beretta pico, beretta a300, beretta 93r, beretta a400, beretta apx review, beretta bobcat, beretta 92s, beretta 92x performance, beretta 92a1, beretta m1951, beretta 1301 tactical, beretta 81, beretta apx compact, beretta 21a, chevy beretta, beretta px4 storm compact, beretta 92f, beretta storm, beretta apx 9mm, beretta cx4, beretta 92 compact, beretta cheetah, beretta silver pigeon, beretta px4 storm 9mm, beretta 92fs compact, beretta neos, beretta 84, beretta 96,beretta 3032 tomcat for sale,beretta 92 fs, 9mm beretta 92 fs, beretta 92 fs for sale