Kimber 1911 Custom LW Nightstar Pistol
Kimber 1911 for sale
The Kimber 1911 Custom LW Nightstar Pistol features a sleek design and precision build for reliable performance. This 1911 pistol is built with a lightweight aluminum frame and a match-grade stainless barrel for quick pointing and consistent accuracy.
A white dot rear sight and red fiber optic front sight on this Kimber Custom LW handgun offer a clear point of aim. Stainless parts contrast with the sleek Nightstar frame and slide for a unique look. With a checkered gripping area for a secure hold, the Kimber 1911 Custom LW Nightstar Pistol offers quick pointing and dependable accuracy in a modern 1911 handgun.
Features:
White dot rear sight
Stainless small parts
Red fiber optic front sight
Match grade stainless barrel
Weight-reducing aluminum frame
Grey laminate grips with checkered gripping area
Specs:
Caliber: 45 ACP

UPC: 669278375953
Model #: 3700595
Magazine: (1) 8-round

Caliber: 9mm

UPC: 669278375960
Model #: 3700596
Magazine: (1) 9-round

Rate of Twist: 1:16 LH
Weight with empty magazine: 38 oz.
Barrel Length: 5 in.
Frame Width: 1.28 in.
Overall Length: 8.7 in.
Height 90º to barrel: 5.25 in.
Recoil Spring: 16 lbs.
Full-length guide rod
Material: Steel & carbon steel
Trigger Factory Setting: 4-5 lbs.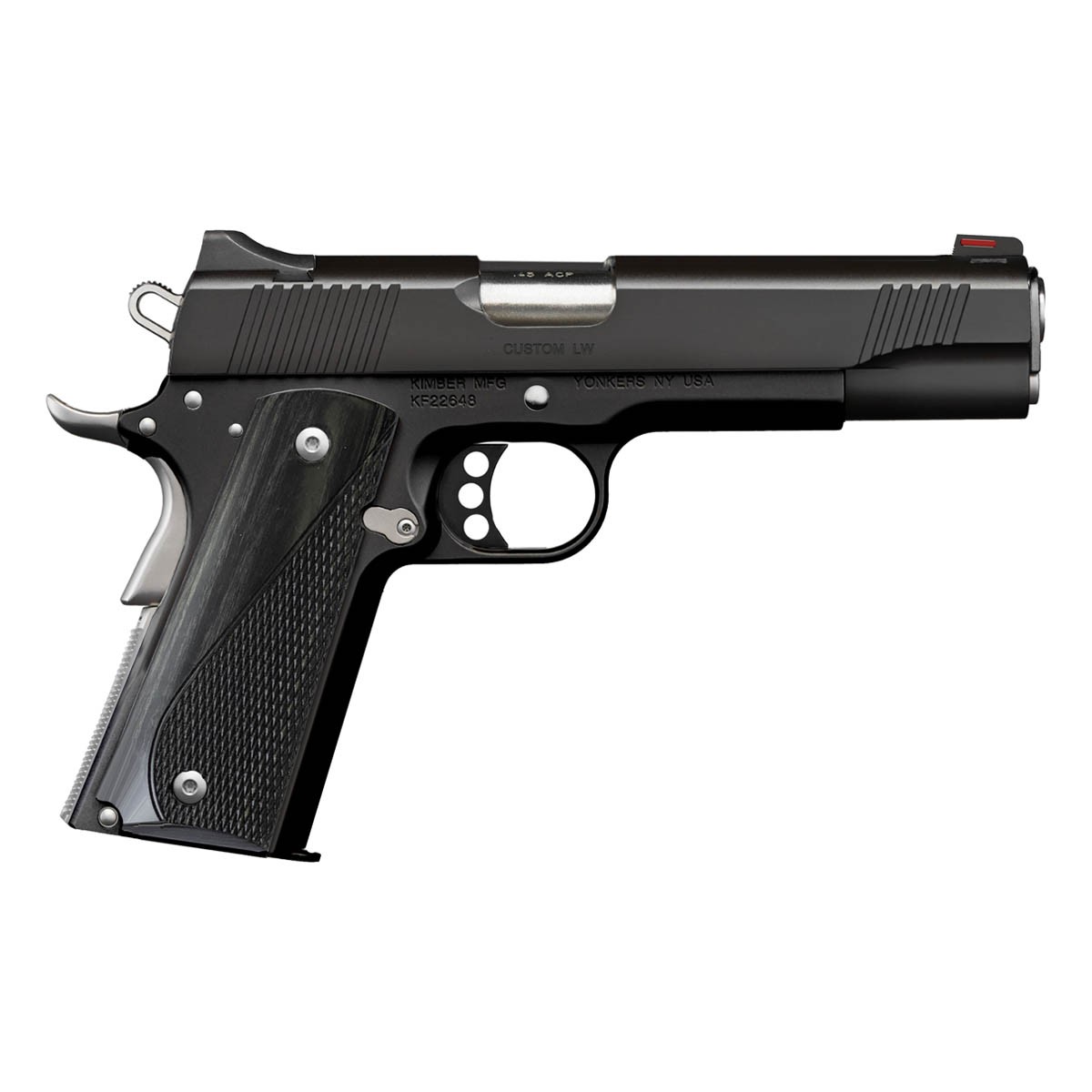 Tags:, kimber micro 9, kimber eastwood, kimber firearms, kimber 9mm, kimber guns, kimber micro 380, kimber rifles, kimber pistols, kimber revolver, kimber micro 9mm, kimber 45, kimber pro carry 2, kimber micro 9 review, kimber 380, kimber micro 9 holster, kimber solo, kimber raptor, , kimber ultra carry 2, kimber sapphire, , kimber micro 9 esv, kimber evo sp,kimber custom ii, kimber custom ii two-tone, kimber custom ii for sale