Kimber Aegis Elite Custom 45 ACP Handgun
Kimber aegis elite custom for sale
The Kimber Aegis Custom Elite 45 ACP Handgun offers reliable performance and a comfortable hold. This 45 ACP pistol is built with a full-length guide rod that balances the handgun and reduces felt recoil. For a more comfortable hand fit, this Kimber pistol features a rounded heel frame.
The front strap on the Aegis Custom Elite features a checkering pattern with 24 lines-per-inch to provide a secure hold and offer improved control and handling. Mounted green and red sights deliver a clear, precise sight picture, while Aegis Elite X slide serrations offer extra gripping surface when manipulating the slide. With G10 cyclone grips, the Kimber Aegis Custom Elite 45 ACP Handgun provides improved ergonomics and dependability to offer smooth precision performance.
Kimber aegis elite custom Features:
Full-length guide rod reduces felt recoil
Rounded heel frame fits comfortably against the hand
24 lines-per-inch front strap checkering offers a secure hold
Green and red fiber optic sights provide a clear sight picture
AEX slide serrations provide added grip during slide manipulation
Kimber aegis elite custom Specs:
Model: 3000351
UPC: 669278303512
Caliber: 45 ACP
Recoil Spring: 12 lbs.
Rate of Twist: 1:16 LH
Magazine Capacity: 8
Weight (Empty Magazine): 38 oz.
Width: 1.28 in.
Barrel Length: 5 in.
Overall Length: 8.7 in.
Height 90 degrees from barrel: 5.25 in.
Grips: G-10
Sight Radius: 6.8 in.
Sights: Fiber-optic front
Frame Finish: Satin silver
Slide Material: Stainless steel
Barrel Material: Stainless steel
Frame Material: Stainless steel
Slide Finish: Matte Black, KimPro II
Trigger Material: Premium aluminum
Trigger Pull Weight (Factory Set): 4-5 lbs.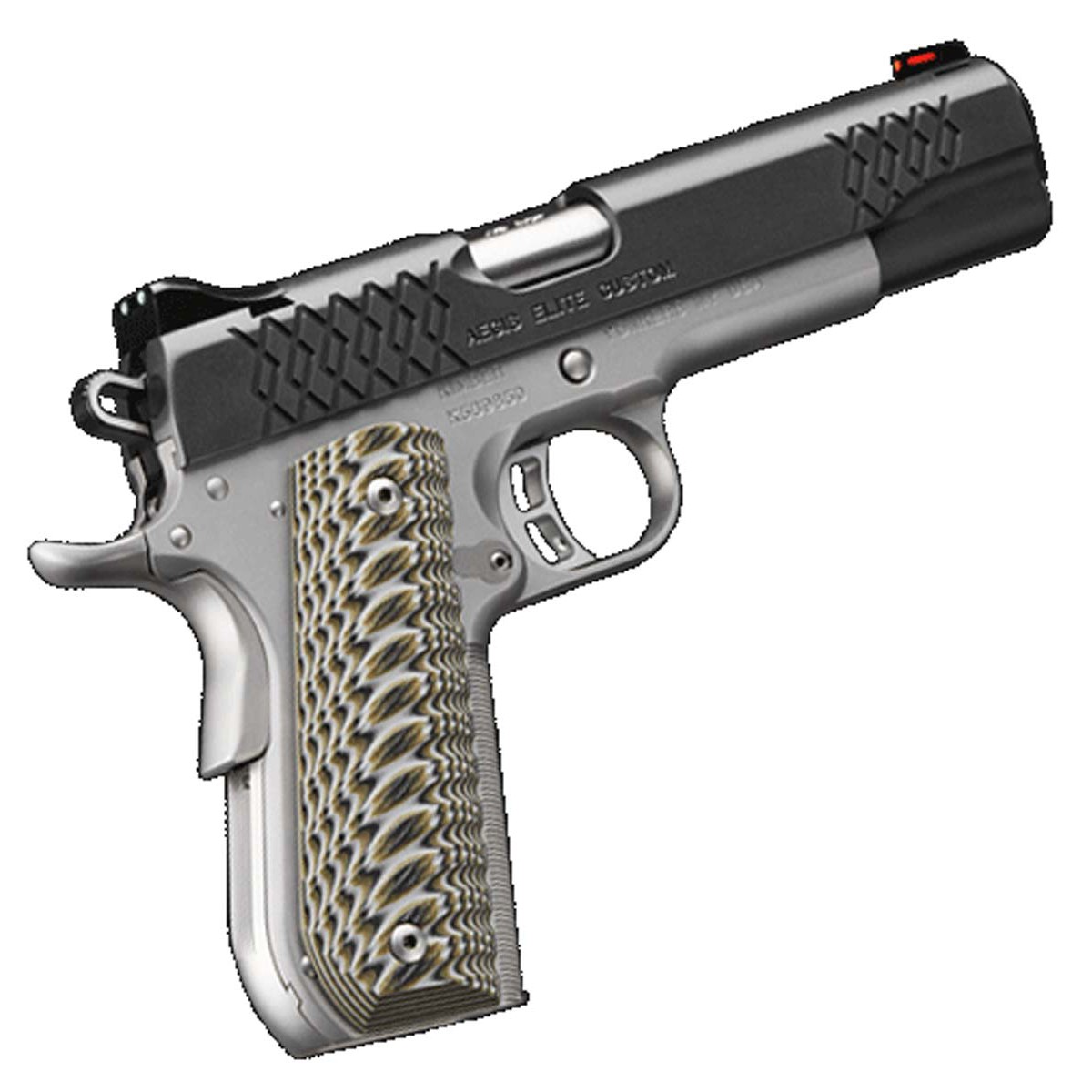 Tags: kimber 1911, kimber micro 9, kimber eastwood, kimber firearms, kimber 9mm, kimber guns, kimber micro 380, kimber rifles, kimber pistols, kimber revolver, kimber micro 9mm, kimber 45, kimber pro carry 2, kimber micro 9 review, kimber 380, kimber micro 9 holster, kimber solo, kimber raptor, kimber 1911 45, kimber ultra carry 2, kimber sapphire, kimber 1911 9mm, kimber micro 9 esv, kimber evo sp,kimber custom ii, kimber custom ii two-tone, kimber custom ii for sale,
kimber aegis elite custom