Kimber KHX Custom 45 ACP Handgun
The Kimber KHX Custom 45 ACP Handgun is a reliable 45 ACP pistol equipped with a red laser grip. This Kimber pistol features stiplex front strap texturing for enhanced grip and improved ergonomics. Front hex serrations on the slide of this 45 ACP pistol offer added grip when pulling the slide rearward.
The Kimber KHX Custom comes with a laser-enhanced Hogue Mag Grip that delivers a secure hold and precision point of aim. For improved handling, this Kimber 45 ACP is built with a full-length guide rod designed to balance the handgun and better manage recoil. Mounted green and red fiber optic sights provide a clear sight picture with quick target acquisition. Built to perform, the Kimber KHX Custom 45 ACP Handgun offers enhanced control and pointability with precision aim and reliable accuracy.
Features:
Green and red fiber optic sights deliver a clear sight picture
Front slide serrations provide added grip when moving the slide
Laser-enhanced Hogue Enhanced MagGrip gives a secure hold
Stiplex front strap texturing further enhances grip and ergonomics
Full-length guide rod better balances the firearm for improved handling
Specs:
Model: 3000358
UPC: 669278303581
Caliber: 45 ACP
Sight Radius: 6.8 in.
Recoil Spring: 16 lbs.
Magazine Capacity: 8
Rate of Twist: 1:16 LH
Trigger Factory Setting: 4-5 lbs.
Weight with Empty Magazine: 38 oz.
Barrel Length: 5 in.
Frame Width: 1.28 in.
Overall Length: 8.7 in.
Height (90 Degrees from Barrel): 5.25 in.
Sights: Fiber optic
Barrel Type: Match grade
Slide Material: Stainless steel
Barrel Material: Stainless steel
Frame Material: Stainless steel
Slide Finish: Matte black, KimPro II
Trigger Material: Premium aluminum
Frame Finish: Matte black, KimPro II
Grips: Hogue Magrip G-10 Mag laser enhanced grip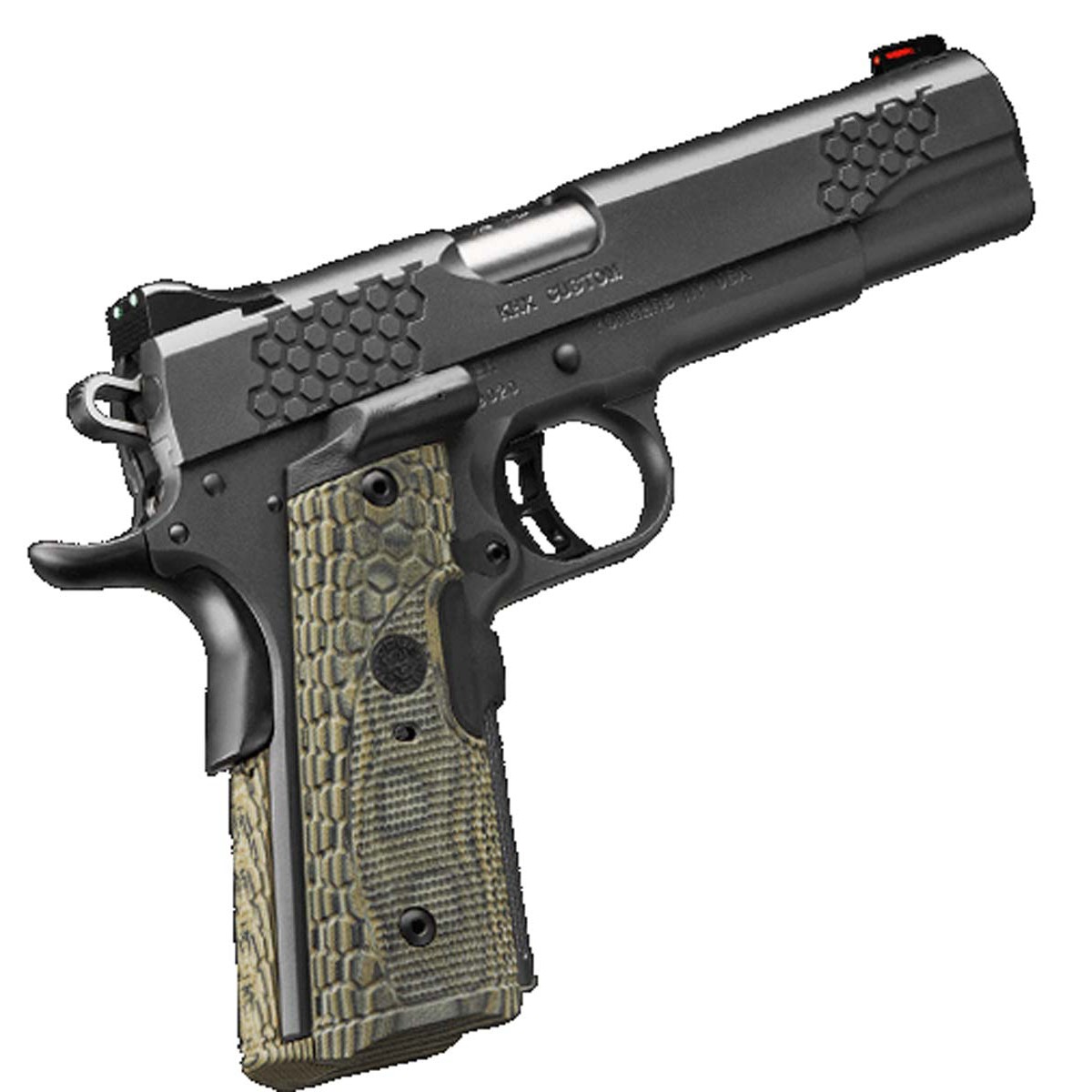 Tags: kimber 1911, kimber micro 9, kimber eastwood, kimber firearms, kimber 9mm, kimber guns, kimber micro 380, kimber rifles, kimber pistols, kimber revolver, kimber micro 9mm, kimber 45, kimber pro carry 2, kimber micro 9 review, kimber 380, kimber micro 9 holster, kimber solo, kimber raptor, kimber 1911 45, kimber ultra carry 2, kimber sapphire, kimber 1911 9mm, kimber micro 9 esv, kimber evo sp,kimber custom ii, kimber custom ii two-tone, kimber custom ii for sale