Kimber 1911 45 Rapide Custom ACP Handgun
Kimber 1911 9mm | Kimber 1911 for sale
Kimber 1911 for sale, The RAPIDE (DN,NS). A truly unique 1911 with stepped cocking serrations, slide lightening cuts for faster lock time, and TiN coated barrel for extreme durability. Equipped with Kimber Stiplex TM front strap stippling and the new G10 WavZ TM grips for extra griping confidence.
Specifications:
Caliber: 45 ACP
Height 90 degrees to barrel: 5.25″
Weight with empty magazine: 38 oz.
Overall Length: 8.7″
Magazine Capacity: 8
Recoil spring: 16 lbs.
Full-length guide rod
Frame:
Material: Stainless steel
Finish: Black, KimPro II
Width: 1.28″
Slide:
Material: Stainless Steel
Finish: Black, KimPro II
Front serrations
Barrel:
Length: 5″
Material: Stainless Steel, match grade with TiN coating
Stainless steel match grade bushing
Twist rate (left hand): 16
Sights:
Tru-Glo TFX Pro Day Night
Grips:
Gray/Black WavZ G10 Grips
Trigger:
V-Cut Aluminum
Factory setting: 4-5 lbs.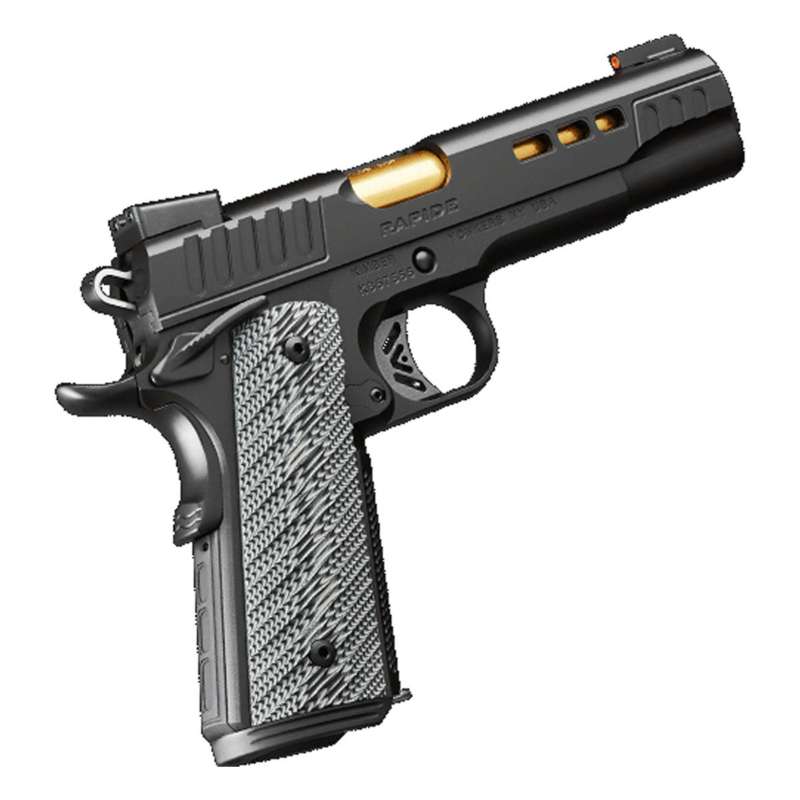 Tags: kimber 1911, kimber micro 9, kimber eastwood, kimber firearms, kimber 9mm, kimber guns, kimber micro 380, kimber rifles, kimber pistols, kimber revolver, kimber micro 9mm, kimber 45, kimber pro carry 2, kimber micro 9 review, kimber 380, kimber micro 9 holster, kimber solo, kimber raptor, kimber 1911 45, kimber ultra carry 2, kimber sapphire, kimber 1911 9mm, kimber micro 9 esv, kimber evo sp,kimber custom ii, kimber custom ii two-tone, kimber custom ii for sale